Contents
(Video) Fresh Install To HUD Working

---
Download Holdem Manager 3 (Click Here To Download)

Double Click

the Holdem Manager 3 installer file on your computer.

Accept

the End User License Agreement.
When the HM3 installer asks

"Install Holdem Manager 3 to:"

Click

Next

to use the default settings.
Click

INSTALL

on the next screen.
Holdem Manager 3 will now start the installation process.
Once Holdem Manger 3 is installed, HM3 will install the CefSharp browser. This is an embedded HTML browser that Holdem Manager 3 uses to display information in the Holdem Manager 3 poker softwar

Now that Holdem Manager 3 is installed, the Holdem Manager 3 setup wizard will start when Holdem Manager 3 is launched for the first time.
Click Next on the

"Welcome to Holdem Manager 3"

setup wizard screen.
Enter your http://www.holdemmanager.com account email and password and click Login.
Note: A http://www.holdemmanager.com/hm3/ account is required to use Holdem Manager 3, even trial users.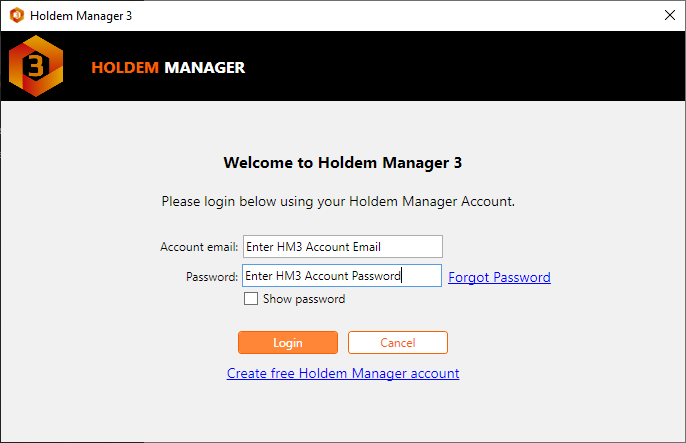 ---
We STRONGLY RECOMMEND using the Express Install option on the following screen. The Advanced Install
looks tempting for previous Holdem Manager users, but we can easily do everything the Advanced Install does directly in the Holdem Manager 3 software after installation.
Note: Using the express install will get you up and running inside of Holdem Manager 3 the quickest.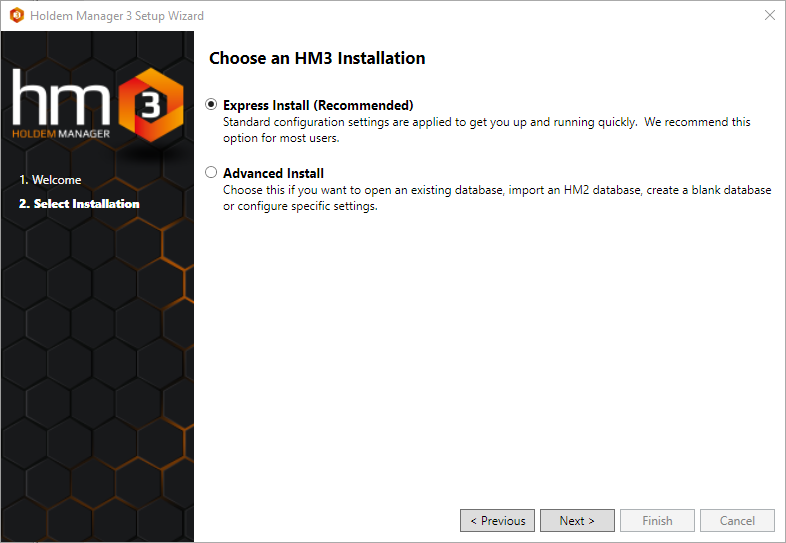 ---
Clicking Yes here will allow Holdem Manager 3 to search your computer for poker site hand history files. HM3 searches for Auto Import hand history folders during this process. CLICK YES

You may Opt in or out of Anonymous Usage Data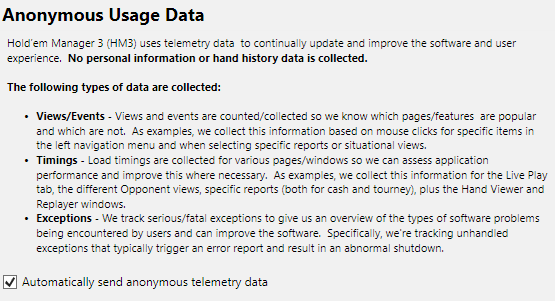 ---
The left side of this screen (NEW SITES) lists out all the Poker Sites Holdem Manager 3 detected on your computer in the previous setup step. On the right side of this screen is (MORE SITES) and this shows other poker sites Holdem Manager 3 supports, but you don't have installed.
Click Next.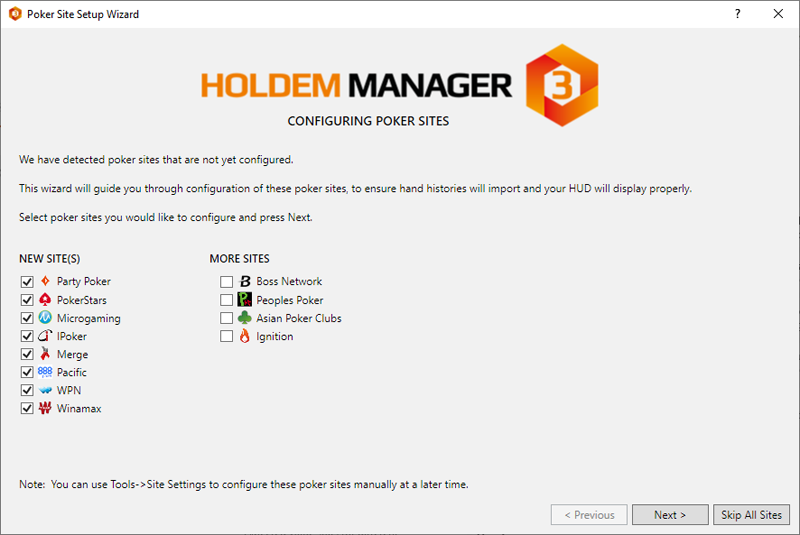 ---
Now we need to go through all the poker sites we play on and make sure Auto Import Folders are setup. Auto Import folders are folders where your poker site saves hand history files. Hand history files must be setup correctly for Holdem Manager 3 to auto import hands allowing a HUD to be displayed on live tables.
If Auto Import Folders are not displayed, click Auto Detect or Add to add the poker site Auto Import Folders.
Detailed Instructions About Setting Up Auto Import Folders For Every Site. (FAQ)
Click Next when Auto Import Folders are setup for the highlighted poker site. (Party Poker in the screen below)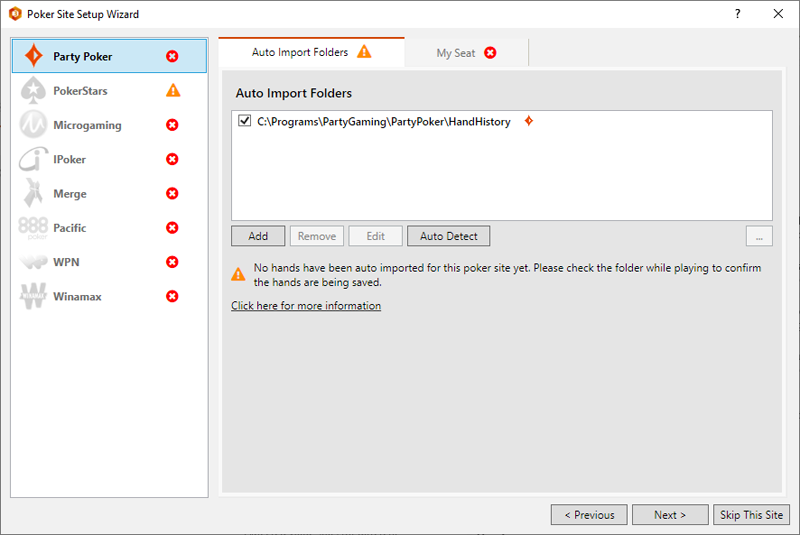 ---
Preferred Seating allows your HUD to be displayed next to the correct player when opening tables.
Use this drop-down to select

Specific Seat, Auto Center

or

Use Hand History Seat.

The poker site you are setting up will use one of those options. For the screen below (Party Poker) Party Poker uses the

"Specific Seat"

option.
If Specific Seat is the option for your poker site, use this drop-down to select how many players are seated at the table.

Auto Center and Use Hand History Seat will not display this drop-down because you don't need to pick a seat with Auto Center or Use Hand History Seat.

Click one of the seats to set it as your preferred seat. This is the same seat that you must setup in your poker software.
Detailed instructions for Preferred Seating by poker site. Preferred Seating (FAQ)
Once Preferred Seating is setup, click Next.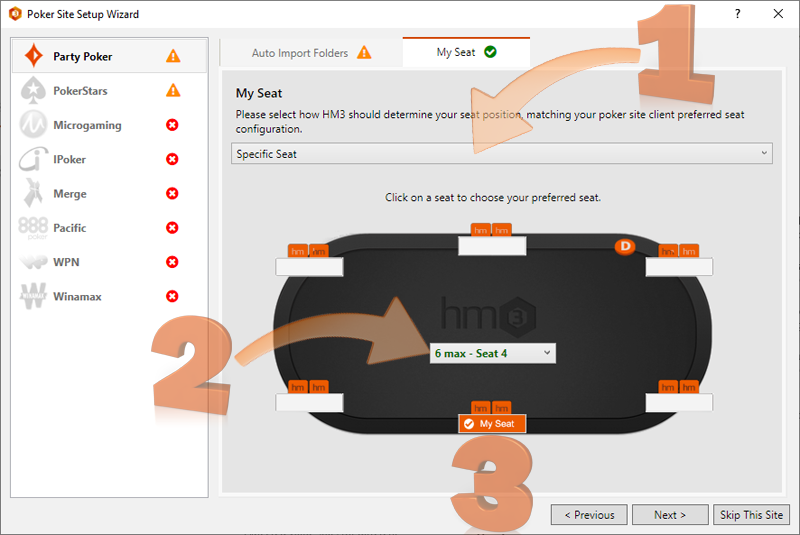 Holdem Manager 3 is now completely installed and setup. You can start playing on your preferred poker site now and as long as Hand History Folders (FAQ) and Preferred Seating (FAQ) were setup correctly, your HUD will be displayed next to the correct player.