Quick Start Guide To Setting Up Holdem Manager 3
1. Play Live Poker (Test Heads-Up Display)
1-A. Switch Between Different HUD's (Heads-Up Displays)
2. Set The Hero (Player Used In HM3 Reports)
3. Import Previously Played Hands
4. Learn More About Reports & Other HM3 Features
---
Once HM3 is installed, open a poker site and play a few MICRO STAKE hands. You want to see a heads-up display.
(Live Table With Heads-Up Display)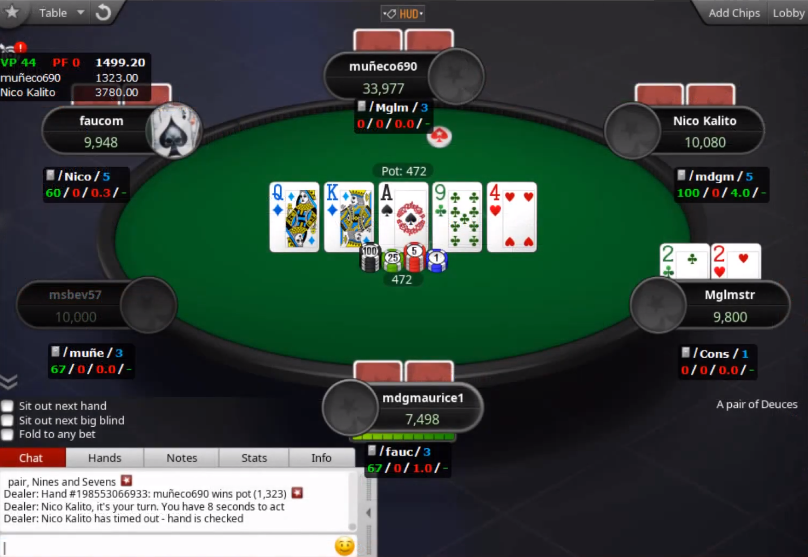 ---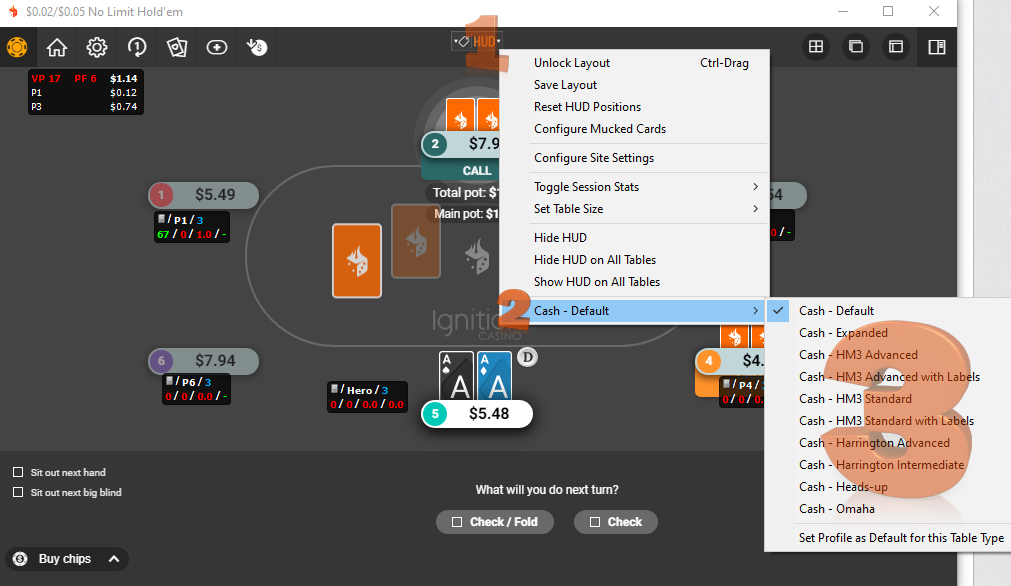 When playing a live table you can quickly change what HUD is displayed by following these steps:

Click the HUD text at the top of your table.
Select the HUD currently being displayed. (Cash-Default in the screen above)
Choose a new HUD from the list.
If you like the new HUD being used, go back into this menu and select "Set Profile as Default for this Table Type" (Very bottom right of the screen above) and every time this table type is opened, HM3 will use the new HUD that you selected in step #3 above.

---
HM3 uses a Hero (Your Poker Site Screen Name) to display data throughout HM3. "carrotsnake" is the current HM3 Hero in the screen below.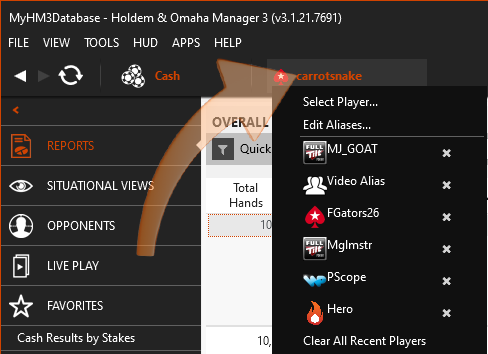 Click the current Hero Name, then click "Select Player..." to change the Hero used in HM3 Reports.
Change Hero / Create Alias (FAQ)
---
Importing previously played hands is a great way to build your database if you've just started using HM3. Many poker sites allow you to download previously played hands directly in their software or your might need to request previously played hands by emailing the poker site.
Once you have the hands, click File > Import Files or Import Folders and HM3 will import those hand histories.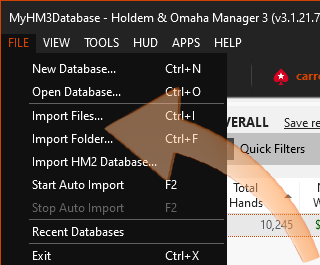 You can also:

Manually Import Previously Played Hands (FAQ)

---
The HM3 Start Screen - Landing Page (FAQ) is a great resource to getting familiar with HM3. It will walk you through everything you see on the opening screen and you can navigate through our entire FAQ system by starting on this FAQ.
The search feature (Top Right) is another way to quickly find the information you are looking for.

---