---
File
Clicking File will allow you to close Leak Explorer
---
View
Clicking View will allow you to switch between the Filters and Leaks Tabs.
---
Tools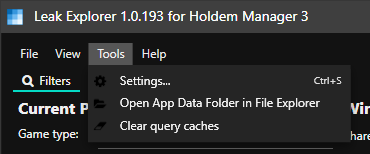 Settings...
---
Show Application on Startup
Allows Leak Explorer to load in focus after HM3 has fully loaded.
---
Show Tool Bar Labels
Mouse over a data column on the Filters or Leaks tab and Leak Explorer will display a tool tip.
---
Max Players to Load:
Max Players to Load will limit the amount of players from your personal database that Leak Explorer will load. If you put this value to 1, only one Winning Player will be loaded in Leak Explorer from your personal database.
---
Theme
Use the dropdown to change the Leak Explorer Theme.
---
Logging
Only needed if Tech Support requests more logging information from you.
---
Open App Data Folder in File Explorer
This will open C:\Users\YOURPCNAME\AppData\Roaming\Max Value Software\Holdem Manager\3.0\AppsData\Leak Explorer
You can delete everything in this folder to make Leak Explorer behave like you never used Leak Explorer. A LE Restart will be required.
If Windows doesn't let you delete files in the AppData folder, close the HM Server in your task tray, close LE and try again.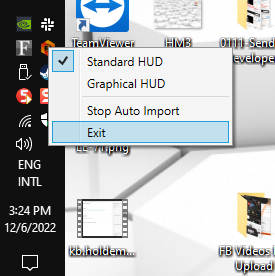 ---
Clear Query Caches
Clear Query Caches will delete all data Leak Explorer has cached. If you do this it will take longer to load Leak Explorer on it's next bootup because LE will rebuild it's cache from your database.
---
Help
The help menu has quick access to:
Help - Leak Explorer FAQ System (You are here now)
Tutorial - A tutorial to help find your first leak
Release Notes - See what's changed.
Feedback - Lets you give feedback straight to the developer
About - Displays the current version of Leak Explorer that you are running