Welcome to Leak Explorer
Let's Find Some Leaks!
- Data driven leak finding at it's best
- Compare your poker game with higher stake games (Prepare yourself before you move up in stakes)
- Instantly see all your poker leaks rated by severity
---
---
1. Filters - Current Player Hands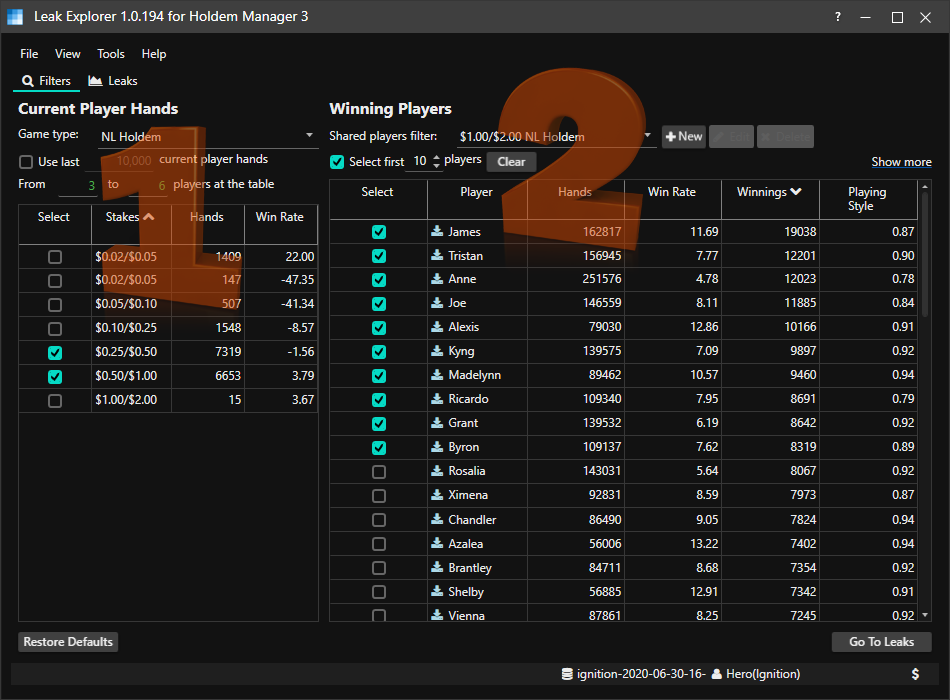 Select the game type you want to search leaks for with the Game Type dropdown. (NL Holdem)
Filter for the "Use Last X Current Player Hands" or leave it blank (Only use this if you have over 100k hero hands).
Set the "From X to X Players At The Table" (Since I mainly play 6MAX I set this to "3 to 6")
Select which stakes to use for the Hero Hands by checking or unchecking the stakes. (I'm going to look at my $.25/$.50 & $.50/$1.00 hands)
Note: You don't want to use a big mix of stakes here because micro games play way different than bigger stake games.
---
2. Filters - Winning Players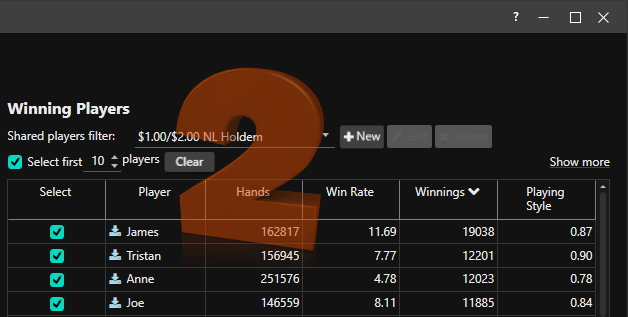 Set the "Winning Players Filter:" close to the stakes you selected in step 1. (I'm going to use $1.00/$2.00 NL Holdem)
Leave the "Select First X Players" at 10.
Note: You want to select stakes close to the stakes you used in step 1. I chose one stake higher so I can compare my game to the next level up in stakes.
---
3. Leaks Tab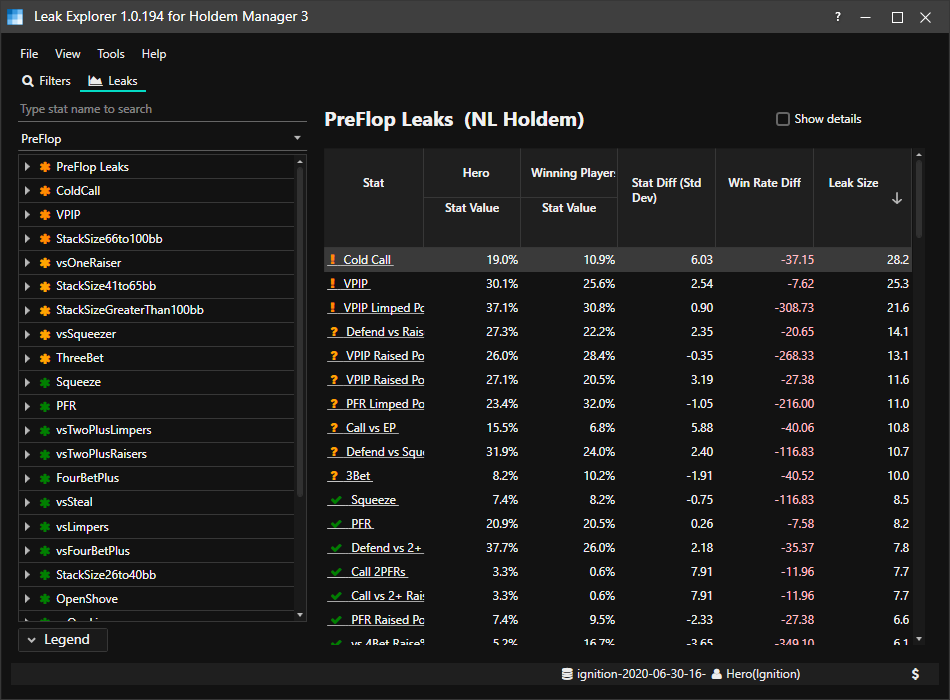 Allow Leak Explorer to load your Preflop leaks. (Change streets by using the dropdown at the top-left where it says "PreFlop")
Look at the stats on the right side of the screen. Cold Call is my biggest preflop leak.

I Cold Call 19%
Winning Players Cold Call 10.9% on average (Big Difference)

Click the Cold Call stat now.
---
4. Leaks By Position - Stats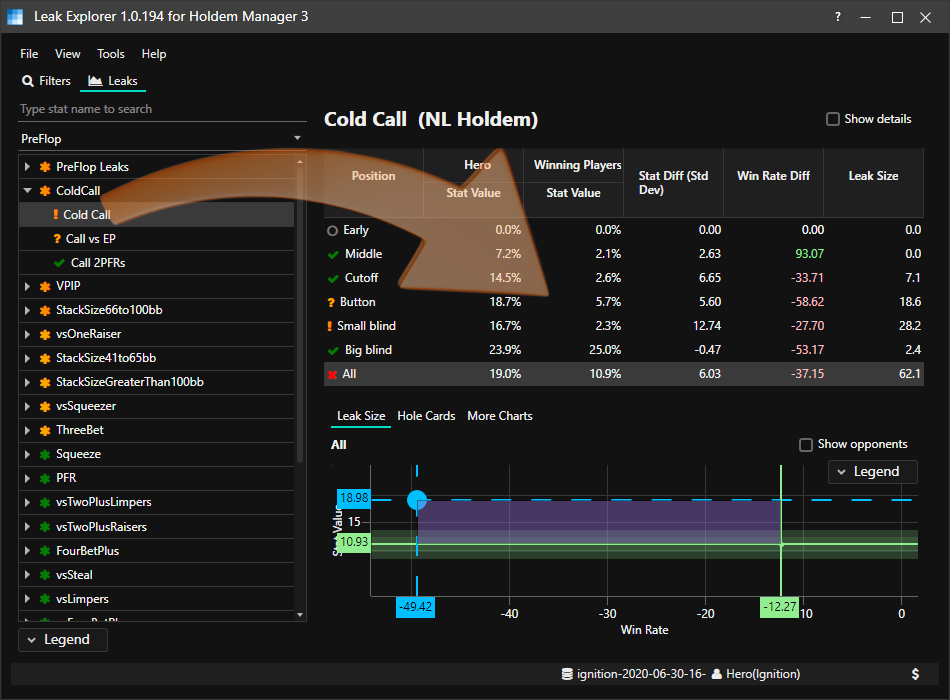 Look at the Cold Call stat broken down by position now and focus on the stat for each position.
Button & Small Blind is my biggest leak for Cold Calling.

I Cold Call (18.7% Button & 16.7% in the Small Blind)
Winning Players Cold Call (5.7% Button & 2.3% in the Small Blind)
---
5. Leak Size Tab - Charts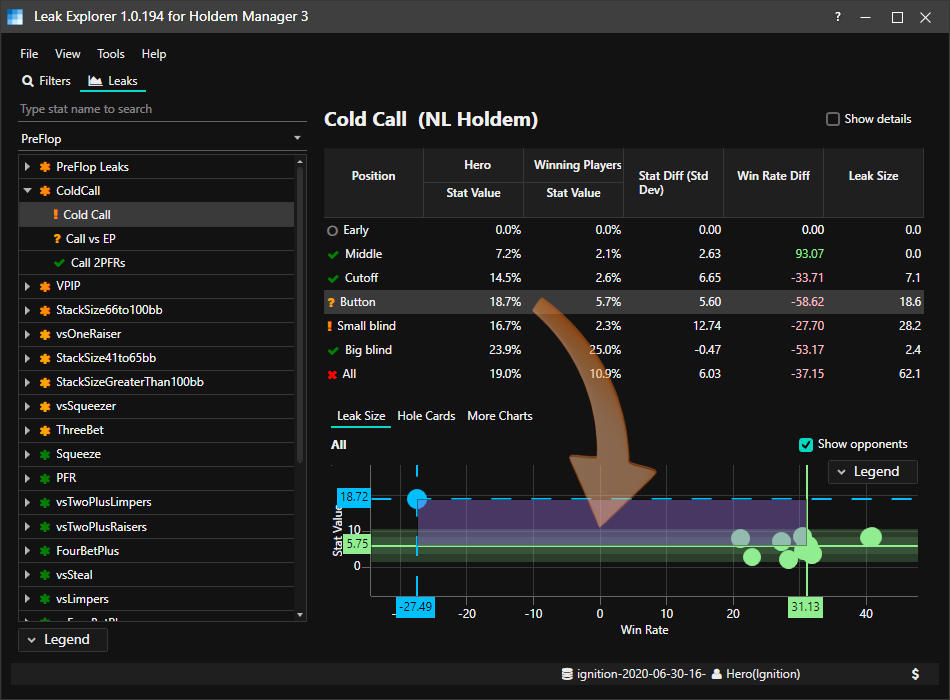 The blue dot in the top left is the Hero, green dots are the 10 Winning Players for the Button Position.

Click Show Opponents on the right side to display the 10 Winning Players. (Green Dots)

My Button Win Rate difference is -58.62 and my Stat Value is 18.7.
Notice Winning Player green dots are all grouped together. Their stat values are very similar and their win rates are way higher than my win rate.
Note: The bigger to box, the bigger the leak. (Box is purple above.)
---
6. Conclusion
a
a