(Video) Fresh Install To HUD Working

(Video) HUD Troubleshooting (General Poker Site Setup & Auto Importing Hands)

Holdem Manager 3 will automatically configure Auto Import Folders during installation.
Use this guide if your HUD (Heads-Up Display) is NOT displayed or hands are NOT automatically imported into Holdem Manager 3 during live play sessions.
To display a HUD (Heads-Up Display) on live tables, Holdem Manager 3 must Auto Import Hand History Files and there are two steps to this.
Step 1 - Find Poker Site Hand History Folder
Step 2 - Configure HM3 To Recognize Poker Room Hand History File Locations
---
Your Poker Site writes Hand History files to your hard drive after a hand is completed. We need to find the folder path on your computer where your Poker Site is saving Hand History files.
Poker Site Hand History options are found in a Settings menu or an Options type menu in the Poker Site software.
Below are a few examples showing where Hand History options can be found from a few Poker Sites:
PokerStars


iPoker


WPN

Poker Site Hand History Settings
Critical:

Make sure

"Save Hand Histories"

is checked if your poker site has this option.
Critical:

Make sure

"English"

Hand Histories are being saved if your poker site has this option.
Critical:

Note the folder path where

Hand Histories

are being saved.

(Write the folder path down or copy it to your clipboard. We will use this Hand History folder path later.)
If your poker site saves

Tournament Summaries

, we need to locate that folder as well.

(Write it down.)

Not all poker Sites support tournament summaries.
Note: If you changed any of the options listed above, play a few live hands before proceeding.
Only proceed to Step 2 if your know the folder path of your Poker Site Hand History Files!
---
PokerStars
iPoker
Winamax
888 Poker
Winning Poker Network
Boss Media
Merge Network
People's Poker
Ignition
PartyPoker
Asian Poker Clubs - NEW
---
Go to

Tools > Site Settings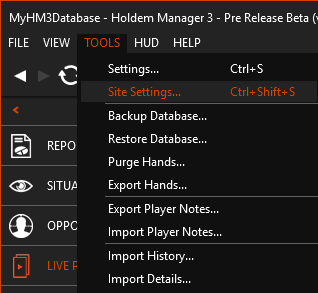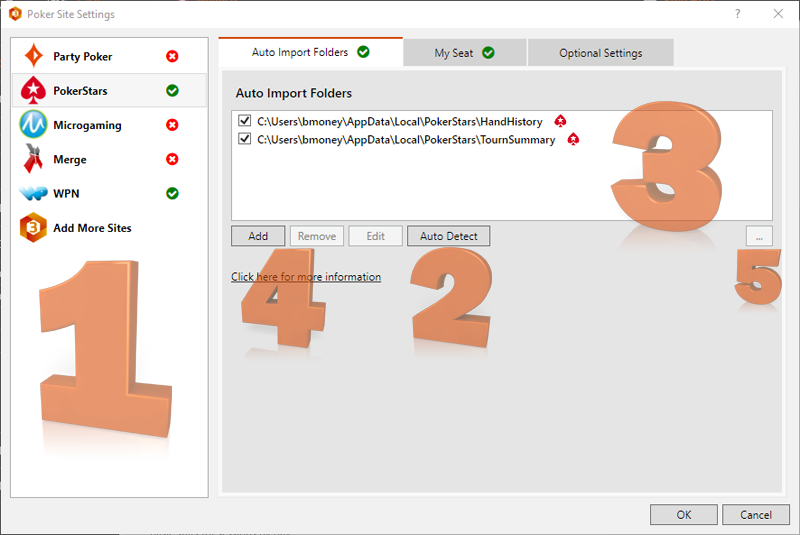 Figure 1

- Select the Poker Site to configure on the left.
Figure 2

- Click the

"Auto Detect"

button (2) and see if new folders show up in Figure 3.
Figure 3

- If

NEW

Hand History Folders

appear after clicking

"Auto Detect"

, you are done and your HUD should work.
Figure 4

- You can manually add or edit

Hand History Folder

locations here. If no new folders appeared after clicking

"Auto Detect"

, manually add the

Hand History Folder

we located from Step 1.
Figure 5

- Click here to open the selected

Auto Import Folder

from figure 3. If you just played a couple hands, this folder should have

Hand History

text files in the folder.
Make 100% sure your Poker Site Hand History Folders match the Auto Import Folders in Holdem Manager 3!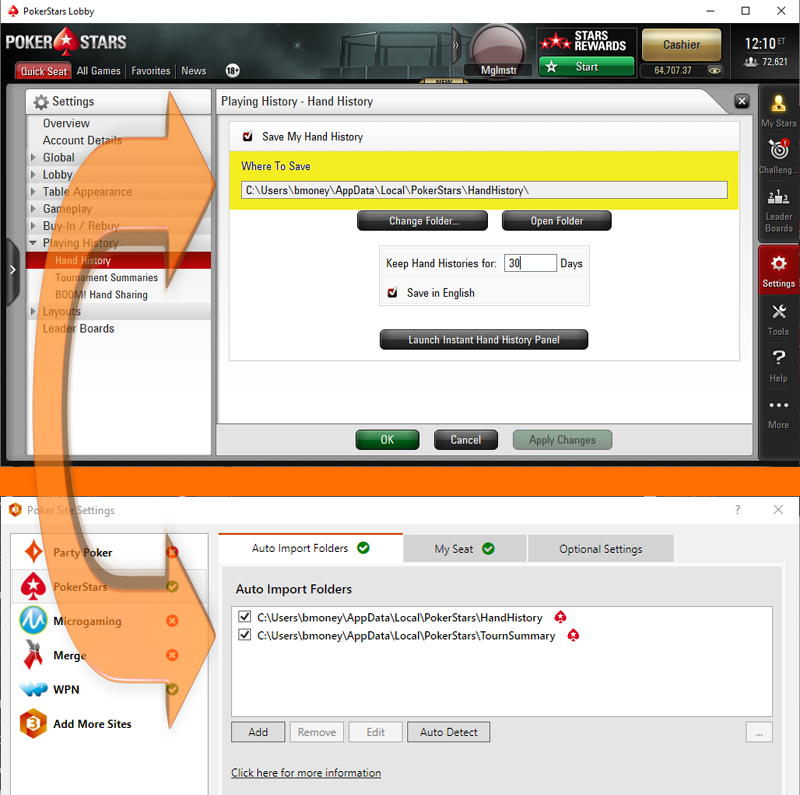 If you still can't get hands to Auto Import to display a HUD, review Step 1 and Step 2 along with our HUD Troubleshooting Video.

If the HUD isn't lining up with the correct player, review our Preferred Seating (FAQ) along with Site Specific Setup (FAQ).