Hand Views are found throughout Holdem Manager 3.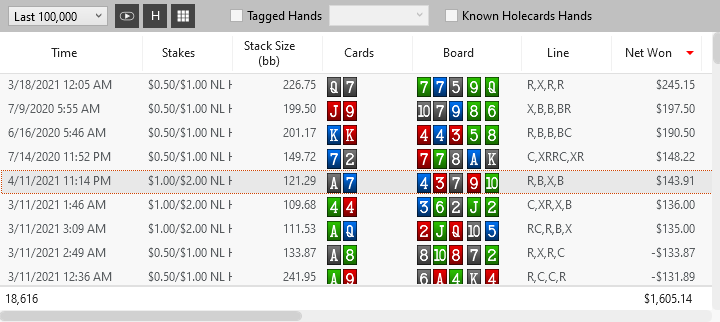 ---
Top Row - Hand View

The top row of the Hand View has the following options: (Top Left to Top Right)
Drop-down allows you to select the last 1,000 hands up to last 100,000 hands.
Replayer Button - Loads currently selected hands into the HM3 Replayer (FAQ).
H Button - Loads currently selected hands into the Instant Hand History Viewer (FAQ).
Displays all hands in a heat map. (See Below)
Checkbox left of "Tagged Hands" filters hands that you have tagged (Marked for Review).
Drop-down lists marked hand tags so you can filter tagged hands further.
Known Holecards Hands - Removes hands where there were no known holecards. These are hands where you observed the hand but were not dealt cards.
---
Main Hand View

The column headers can be dragged to change the column order.
Right clicking column headers allow you to hide or un-hide stats to the hand views.
Customize the stats in the hand view columns by going to Tools > Settings > Hand View Columns (FAQ).
---
Right Clicking A Line In The Hand View: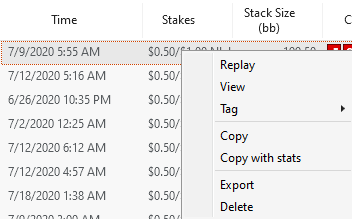 Right clicking a line in the hand view allows you to Replay, View or Tag a hand. You can Copy the hand to your clipboard with or without stats, export and delete hands.
---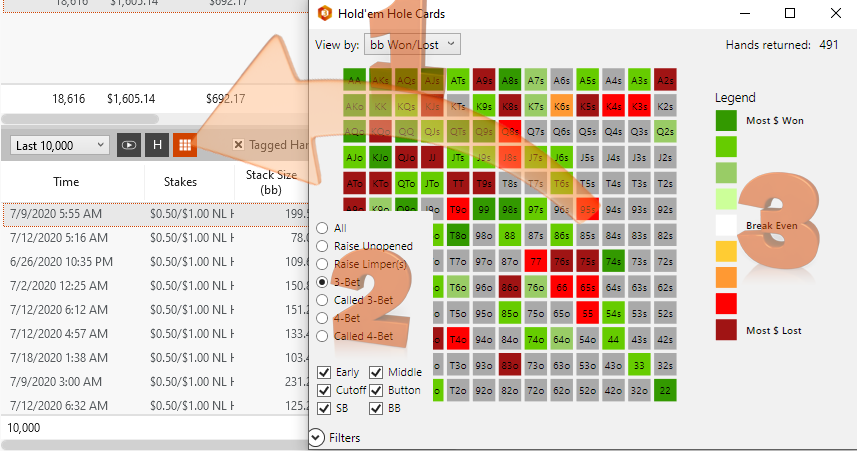 Change the type of heat map displayed: bb Won/Lost or Hand Count.
Filter button in the bottom left allows you to filter by positions and some preflop actions.
The legend for the current heat map.
---
(Video) Hand View Options