The Reports in Holdem Manager 3 are a great way to analyze your poker game. HM3 has numerous Cash and Tournament specific Reports.
Start by selecting a Cash or Tournament Report here: Main Tool Bar (FAQ)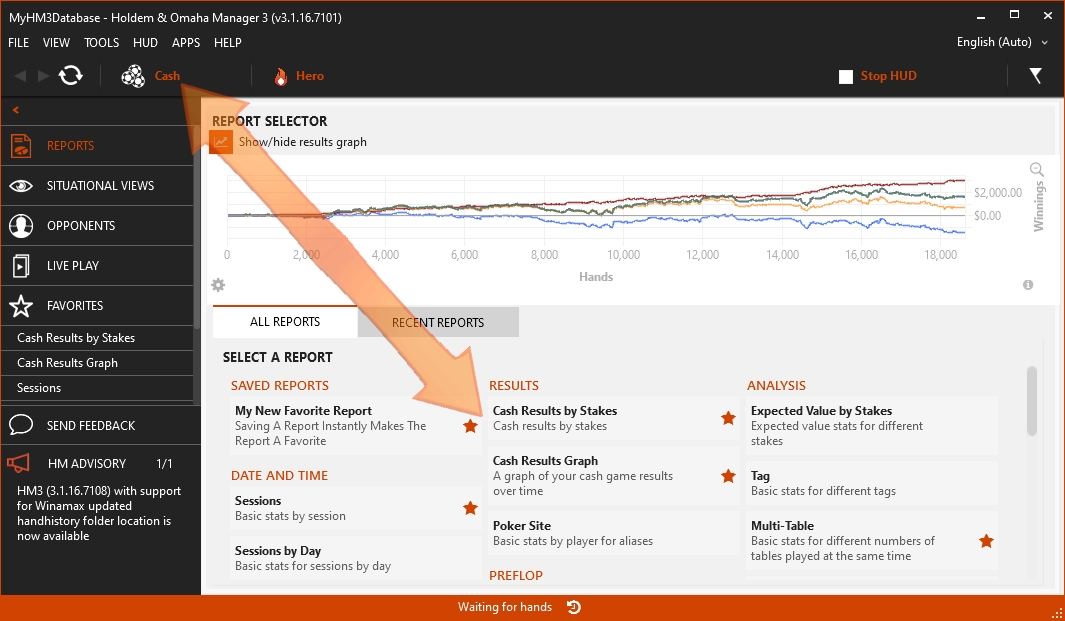 ---
The Main Tool bar allows you to switch between Cash & Tournament Reports, change the hero used for the Reports and you can also start and stop your HUD here. See Welcome to HM3 (FAQ)
---

Save report as... will save your current report with the active filters. (Active filter above is "Did Cold Call - True".)
Press the funnel icon next to Quick Filters to bring up the following options:

Quick Filters - Replaces the graph with quick filters. Click a Quick Filter and HM3 will add it to your current Report.
Filter Editor - See Report Filter (FAQ)
Date Range - Quickly filter for a specific date range in your current Report.

Current Filter Bar - This displays the current filter applied to the Report.
Save Icon - Saves the current Filter and places it in the Saved Filter tab.
X Icon - Removes the current Report Filter.
Graph Icon - Swaps out the Quick, Recent & Saved Filter tabs with a HM3 Graph (FAQ).
Book Icon - Add stats to your current Report. See Below.
---

Click-drag the column headers to position the columns to your preference.
Right Click column headers to hide or unhide stats.
Click a column header to sort the rows by stats or winnings.
Right Click a Row:

Save as will save the report as a .csv file (Spreadsheet) or .html file.
Select Stats allows you to add and remove stats from your Report. (See Below)
Select all selects all the Rows in the Report and updates your graph to display all data in the Report and not just a single row.
Using the Select Stats (Right Click) option or pressing the Book Icon in a Report will allow you to add any stat you want to a Report.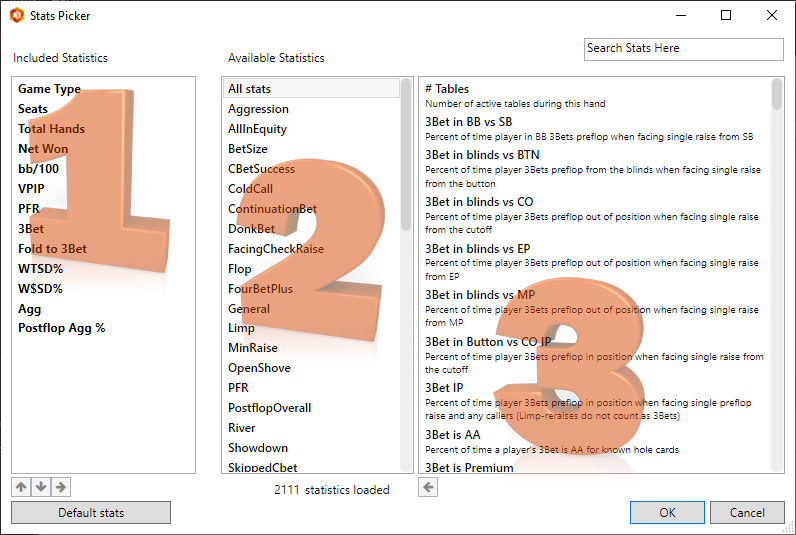 Included Statistics - Stats that are currently in your Report.
Available Statistics Groups - Similar stats are grouped in HM3. Press one of the groups then the available stats for that group will be displayed on the right side window.
Available Statistics Stats - Currently all stats are displayed here but clicking a stat group (#2 above) will refine your available stats displayed in the right side window. (#3 above)
Search for a stat in the top right. (Search Stats Here)
Use the small arrow icons to move stats to and from the Included Stats (1) window.
Pressing the Default stats button will put your Report stats back to their default install states. All Report Stat customization's will be lost.
---
Graphs are found throughout HM3. See HM3 Graph (FAQ)
---
Hand Views are found throughout HM3. See HM3 Hand View (FAQ)
---
Report Playlist (7 Videos)